NFI have a long history of off-shore, petro-chemical site work.
We have worked in some of the most challenging environments and extreme conditions including emergency repairs to a hurricane damaged overhead fibre optic network. We installed our multiway fibre optic connectors on the FPSO ESSO Jotun in Stavanger shipyard. Our engineers have been security cleared to work at top pharmaceutical sites and we installed the data, voice and CCTV network land and air-side at Heathrow Airport directly for BAA.


Please select the link to the right to view our experience in that particular field.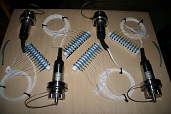 North Sea Gas Field Multiway Connectors